Our Specialty : Restoring Old World Craftsmanship
Prior to the era of production lines, craftsmen were building one musical instrument at a time, optimizing each step of the process, this allowed the best piano possible to be constructed from the given materials, also giving it a certain kind of individuality.
We are inspired by the pianos of Heintzman, Steinway, Bosendorfer, Mason & Hamlin, Knabe, Bechstein and Bluthner to name a few. The craftsmanship and construction of these pianos in the piano hey-day (1880 – 1930) in general far exceeds the craftsmanship of today's pianos. These pianos, meticulously restored, often produce an instrument of quality unavailable on the new piano market today (also much more reasonably priced!).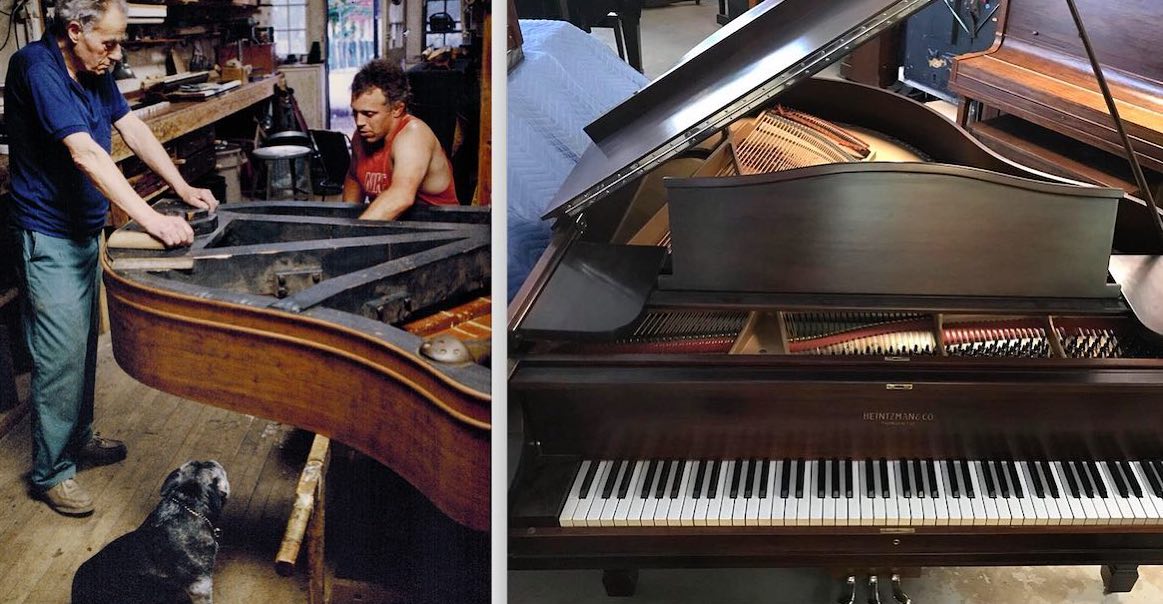 Restoring a Piano
Over time, pianos naturally lose much of their original tone and lustre, resulting in a dull sound and appearance. Depending on the extent of the wear and damage, the piano may need a reconditioning or it may need to be restored or rebuilt. In either case, our skilled experts can refinish, restore, or rebuild most pianos, resulting in a sound and appearance that is often times better than the original.
The following photos are of a piano damaged a house fire
The body was heavily charred and the soundboard and many of the internal parts were damaged.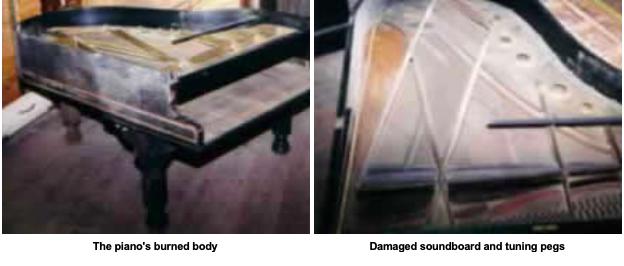 The client came to us to repair this antique piano. We eagerly took the challenge and set to work refinishing the body, soundboard, and keyboard. The following photos detail our work on the soundboard: laying new wood, drilling holes for the pegs, and the final finishing touches.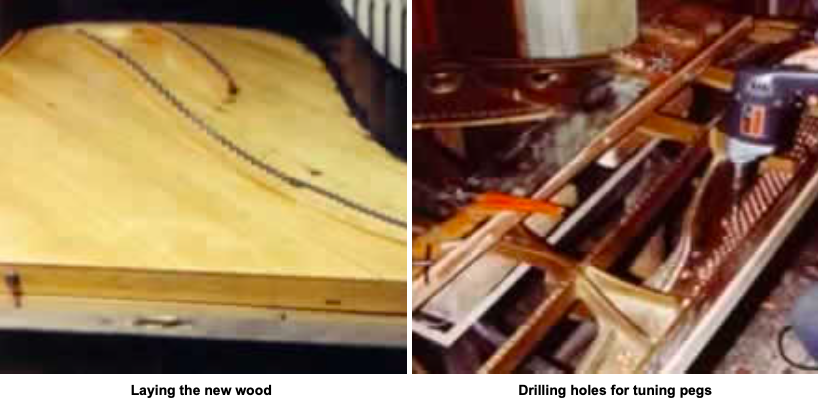 And finally, after hours of tiring work, we had restored the piano to better than new!